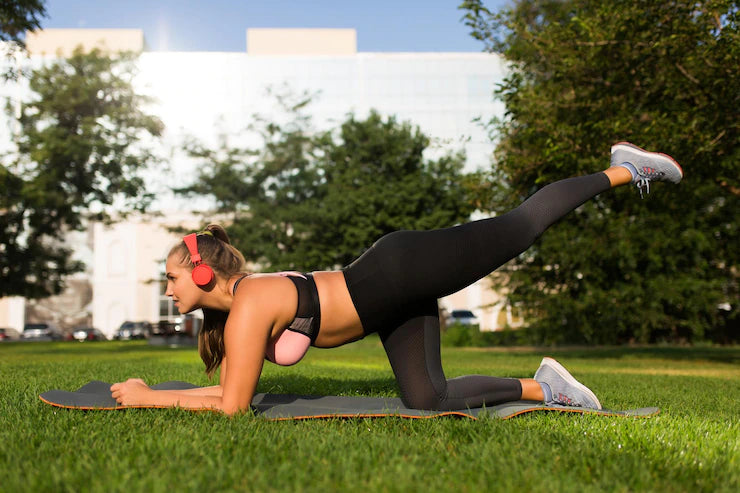 No one can deny the importance of a workout in maintaining good health and giving your body a perfect shape. From alleviating your mood to decreasing the risk of diseases and boosting your energy level, exercise can do wonders for you.
If you've agreed to this fact and decide to start a workout, congratulations! You've taken a step towards a healthy and positive lifestyle. Go and join the gym; nothing can stop you from achieving good health!
But, wait for a while! First, you need to know which workout clothes you need to start your gym. You might be thinking, "How will I choose the right workout clothes"? "Can I find Funky gym clothes instead of boring designs"? Don't worry; this article will answer every question in your mind regarding workout apparel. So, keep reading till the end.
Different Types of Workout Clothes
Following are the must-have workout clothes you need in your wardrobe:
Leggings – The Ultimate Comfort
The first on our list and the essential workout clothes is no other than – leggings. Although your wardrobe may be full of colorful leggings, you still need the workout leggings for women. The types of gym leggings for women entirely depend upon the workout's intensity. The more comfortable the leggings are, the more chances of it increasing your physical activity.
For running, yoga sessions, and athletic activities, you can go for running leggings, high-waisted yoga leggings, and sports leggings, respectively. You can also up your style game by buying patterned gym leggings.
If you're a person who loves to try different colors, designs, and styles in clothes, then you can also get funky gym leggings to show your love for colors and the workout.
Racerbacks – The Best Supporter
Want a maximum range of motion while doing a workout? If yes, then say "Hi" to the racerbacks! Their straps are designed in a particular way to give support to your back. In this way, it helps to avoid any inflammation of the skin. After wearing it, you can peacefully do your workout without needing to set the straps repeatedly. Men can also wear racerbacks to boost their activity and show off their back muscles.
Sports Bra – The Must-have for Women
You can overlook this item if you're a guy. But for women, it means a lot. Only a woman can understand how it feels when her bra suddenly starts to dig into the shoulder during the workout. In this awkward situation, she can't help but make angry faces. Therefore, a good sports bra is a must-have.
A comfortable women's sports bra never makes the breasts drool during excessive movement and minimize sweating. The ideal fabric for a sports bra is a blend of cotton and Lycra. So, keep in mind the material mentioned above before buying a sports bra. And lastly, you can add a touch of fun and colors by buying funky gym sports bras.
T-Shirt – Another Name for Relaxation
Let us introduce you to another workout item, guess what? It's no other than - the T-shirts. Nothing out of your wardrobe can be as comfortable as the T-shirts are. They are simple to put on and off and also affordable.
We're sure that, whether you are a man or woman, your wardrobe consists of a vast number of t-shirts ranging from high school t-shirts to casual ones. But you can't wear them to the gym. Instead, you can get a range of workout t-shirts online and from the market.
You can choose the right fabric, eye-soothing colors, multiple designs, and unique styles when buying workout t-shirts. Try to get funky gym t-shirts to alleviate your mood and maximize your activity!
Workout hoodie – The Perfect Winter Partner
Workout hoodies have made their place on the list of essential workout clothes. You might be thinking, "Why is there a need to wear hoodie?" "Will not I feel hot after wearing it?" Let us answer your questions.
As you know, warming up is the first step of a workout to avoid any injury during exercise. What a hoodie can do in this regard is accumulate the heat in the body and let your muscles warm up efficiently and fast. A workout hoodie does its wonder by making you feel cozy during winter and helps you to burn calories quickly. So, yes hoodie is also an excellent addition to your workout clothes.
Things to Consider Before Buying Workout clothes
Make sure to buy the item which fits you well.
It would be best to buy the workout apparel according to the intensity of your workout.
Buy clothes that don't limit your movement every time you change your posture.
Look for the blend of cotton and Lycra in workout clothes
Where Can You Find All the Workout Apparel in One Spot?
To minimize your search, we recommend you check the collection of workout clothes at Blexry. From best leggings for women to a comfortable sports bra, you can find a variety of workout clothes here. Isn't it amazing? Well, thanks to us later! Whether you're a man or woman, Blexry has something for you!
Final Verdict
Get ready to make up your workout wardrobe! What you need is, some motivation to do a workout and a fantastic wardrobe collection. And here you are, enjoying your exercise in a happy mood. Good luck!