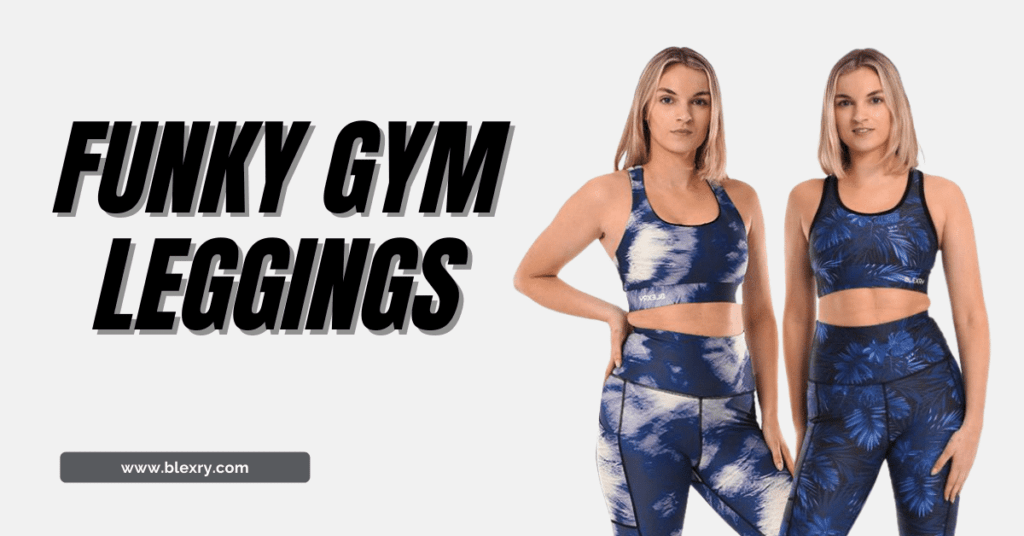 Let us guess; you've recently got some motivation to go to the gym due to the many benefits it provides to your body. From controlling weight, improving mental well-being, and maintaining the sleep-wake cycle to shaping the body, this short word "Funky Gym Leggings" is just more than a place to go.
After deciding to join a gym, the first thing that might come to your mind is the right and comfortable gym wear. Among many other accessories that make their place in the essentials of gym wear, leggings are the most important. You should be careful while buying the best gym leggings, especially if you're a newbie to the gym. So, instead of purchasing bore, plain or uninteresting gym leggings, you should go for Funky Gym Leggings, with a touch of uniqueness and colors.
This article will explain everything you need to know about Funky gym leggings. So, without any further delay, let's get started!
Best Fabrics for Funky Gym Leggings
Before buying funky gym leggings, you must know the best fabric for gym leggings. That's important as it's going to affect your gym activity directly. Obviously, you never want to find yourself trapped in a situation where you are left with nothing but discomfort due to the wrong fabric of leggings. Keep in mind the following things before choosing material for a gym legging:
It must be stretchy to let you pose properly during any gym class. For this purpose, you can go for any fabric with Lycra as a primary component.
It should be durable, i.e., it lasts for months without tearing.
It should be comfortable for a long hard gym workout. So, opt for the smooth and skin-friendly fabric for this purpose.
Following are the best fabric for gym leggings:
Polyester
Spandex
Nylon
Polypropylene
What Are the Different Styles of Gym Leggings?
Life is too short to wear boring clothes, even if they're casual, formal, or gym wear. So, always try to give uniqueness to your wardrobe with bright colors and diverse patterns.
When it comes to the different styles of leggings, you'll find endless options. Let your mind and heart feel good with funky designs, various colors, and bold prints of funky gym leggings. Let's explore some unique styles of gym leggings that suits you the best:
Full-length Leggings
The best style of gym leggings is the Full-length leggings, also referred to as ankle length. They give more coverage and a chance to display the funky designs of leggings in the best way.
Knee-length Leggings
Mostly the starters prefer these gym leggings, which are cut off under the knees. They provide you comfort and more flexibility during the stretch-squat session.
Shaper Leggings
Shaper leggings are used during a workout to achieve your desired fitness goal. They are made up of flexible fabric that gives a pleasant look to your legs during the exercise. So, if you join the gym only to turn your body into better shape, you should try these leggings.
High Waisted Leggings
The funky high-waisted leggings help you look bold and confident. They are also adored for their coverage and support during the gym session. Apart from this, they never go out of fashion and are famous for their slimming effect.
Low Waisted Leggings
Want maximum comfort during your yoga session? Why not give a chance to low-waisted leggings? Besides giving smoothness to your legs, they also motivate you to do extra workouts due to the comfort they provide.
Where to Buy Funky Gym Leggings?
After knowing everything about Funky gym leggings, you might wonder, "Where can I buy the best funky gym leggings?" In the modern world of technology, where there is a lot of competition, it's hard to choose the right quality products. Many websites claim their products are the best, but you should carefully select the right gym wear for you. The suitable gym leggings make you feel comfortable during a hard gym session.
You can buy the best Funky gym leggings from Blexry to get unique and funky leggings designs. The funky styles will look good and give you an injection of energy by encouraging you to achieve your fitness goal.
Wrapping it Up:
We hope this article convinces you to give your best in the gym and highlights the importance of Funky gym leggings in this regard. In the end, let me tell you one thing: to feel empowered and confident, intake maximum energy, and enjoy a long healthy life, you've to be persistent in doing exercise! The choice of gym wear adds an extra spark to this process.
So, you've to be choosy while looking for the best gym wear, including gym leggings. This will save you from any worst experiences, and then there's no going back!