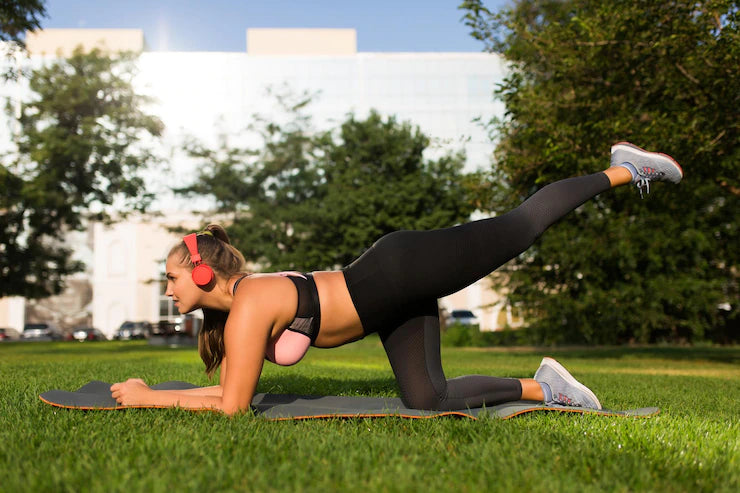 Let us guess; you're passionately doing your workout, and you know you'd spend long hours in your workout class. Suddenly, your leggings start rolling down, disturbing your rhythm! Isn't it irritating? In such a situation, you just can't stop yourself from tugging up your pants along with making angry faces during the workout session. Thus you want to know "how to keep funky gym leggings from falling down?"
For many years, leggings have become a style statement and women's favorite part of clothing. Women's wardrobe is incomplete without some colorful and stylish casual leggings and funky gym leggings. And, why would not it be? After all, they are all-rounder - providing comfort, style, and slimming effect at once.
But, as you know, good things can sometimes go wrong. If you don't choose the right leggings, it may get you into trouble, and you'll have no other option left than to pull them up every moment. Take a deep breath; you're landed at the right place. Today's article will help you in this regard and guide you about keeping your leggings from rolling down! So, keep reading!
Why do Leggings Fall Down?
You might be wondering, "Why do my leggings continue falling down"? Let us tell you; the leggings can roll down due to following reasons:
They are Worn Out
If the elastic of your leggings is loose, it will irritate you by falling down every 2 minutes. The second reason for this might be the age of leggings. Yes! Even the high-quality leggings can be worn out eventually. That's why it's good for you to get rid of a maximum 1 or 2-year old leggings and update your leggings collection.
They are of the Wrong Size
You'll also face this situation if you buy the wrong size for your specific body shape. Most of us prefer only the quality of leggings and their comfort, but we forget about getting the correct size. This will make the leggings roll down from your hips and hang around your knees, especially during a workout.
They are of Poor Quality
The low-quality fabric will always open a pandora box of problems for you, one of which is the continuously rolling down of leggings. You must go for the material that doesn't stretch out immediately. Always get the leggings from a trusted brand with good reviews.
How to Keep Funky Gym Leggings from Falling Down?
The leggings are one of the most light-weight, body-hugging and relaxed workout items. But they may become worse if you don't care much about fabric quality before buying. It'll put you into a situation where you have to pull your leggings back up now and then. It will do nothing but ruin your workout and, worse of all – your mood!
But, you don't need to worry because we've come up with some tips to stop your leggings from sliding. Let's have a look at them!
Try to Get One Size Down
It might seem against any mother's recommendation because she always buys one size up than her kid's fit size! Haah! But, we'll recommend you to get a size lesser than your exact size because the fabric of the leggings is already stretchy. So, it's ok to get one size down. It will fit your legs by giving a body-con feel.
Buy Compression Leggings
The next tip to secure the leggings is to opt for the compression leggings. The leggings with compressed fabrics will slide down less frequently, even if you didn't get the right size. The compression leggings will cling to your legs and make it difficult for the leggings to move from their place.
Get High-Waisted Leggings
Are you tired of adjusting your leggings during a workout session? Of course, no one wants to pull up the leggings every minute. You should prefer high-waisted leggings if your leggings always try to escape your legs when you are out and about.
They give a tender feeling to you and keep everything tucked in by their midriff-cinching waistbands. The high-waisted leggings also provide a perfect shape to your butts along with a slimming effect. So many functions in one legging? Amazing!
Wash Your Leggings Carefully
The way you wash your gym wear is essential because they are made with stretchy fabric, so a slight mistake can just ruin your gym wear item. Like if you wash your leggings at a significantly higher temperature, it will not only shrink or compress them but also damage the fabric.
Therefore, consider passing them carefully on a cool cycle. This will protect your leggings and keep them from rolling down.
Conclusion
No doubt, the leggings have succeeded in making their place in every women's wardrobe. But any bad experience can let them remove leggings from their wardrobe. We suggest you always check the fabric quality before buying a pair of leggings. For a better experience, you can buy the funky gym leggings from Blexry. You'll get everything from variety in colors, style and pattern to the right fit. So, it's time to shop for high-quality leggings! Good luck!