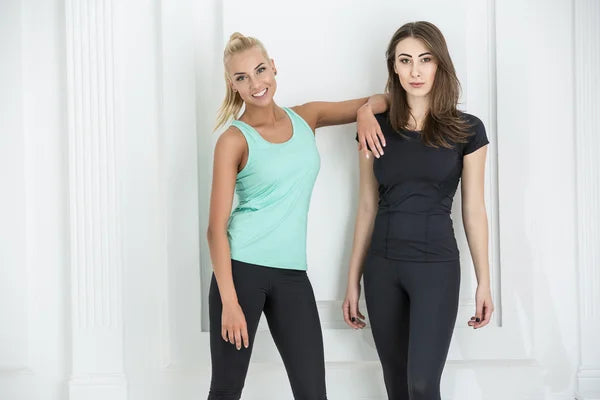 What To Wear To The Gym In Summer?
Is the scorching sun outside making hurdles for you to go to the gym and work out there? Are you confused about "what to wear to the gym in summer?" Indeed both summer and winter demand different gym wear. Obviously, you can't work out in a bomber jacket and hoodies as they will leave you dripping in sweat. 
Do you want to know some of the comfiest yet classy pairs of gym wear to use in summers? Let's dig a little deeper to know all about this topic. 
4 Best Gym Wear Options For Summer 
Here are some of the best pairs of gym wear that you can use when it's as hot as hell outside. 
Cropped Top with High-Waisted Leggings
Cropped tops are never out of fashion. And when they are paired with the high-waisted leggings, they give you a classy look. Not just a striking look, but they are perfect to use for summers. 
The cropped top is a masterpiece of comfort and casual look. And the high-waisted leggings give you extra coverage above your waistline. Above all, they are made with lightweight material that makes them moisture-wicking. Thus they keep you dry after sweating. And your body has a good exchange of air to bring your body temperature down after a workout. 
Sports Bra with Knee-length Leggings
If you want to stay modish but comfy during summer in your gym, you need to opt for a sports bra and a pair of knee-length leggings. 
A sports bra protects you from breast pain and gives you extra chest coverage. They don't crush your ribs but give you a balanced fit. Due to being made of lightweight fabric, they let air and heat come out and resultantly balance your body temperature.  
And knee-length leggings are everyone's favorite in summers. They are comfier than full-length leggings as they cover you till your knees. So you can perform different workout movements without any problem. Most gymers feel irritated when covering the complete lower body with leggings. So this is the best solution for those to wear in summer. 
Sports bras and shorts make a perfect combo for the days when it's too hot outside. Sports bras give you partial coverage and support your breasts to perform your workouts efficiently. In the same way, a pair of shorts will let you feel relaxed and comfortable when doing squats, pull-ups, sit-ups, and other physical activities in the gym. 
Both of these don't let you feel trapped in the layers of clothes but support you in the summer season. 
Short-Sleeve Tee With Full-Length Leggings
Short-sleeve tees are an all-time favorite to wear inside and outside the gym. The majority have short-sleeve tees in their gym wardrobe. Just take a minute and look into your gym closet; you'll also find a lot of short-sleeve t-shirts in it. 
So why not use them in summer with a pair of full-length leggings? You won't find any other gym wear ideal than this if you want to have comfort and coverage both at a time. But make sure to get full-length leggings that are made with lightweight fabric to feel light during your workouts. 
Use this combo as your summer gym wear, and you'll feel as light as a breeze.
A Pro Tip While Choosing the Summer Gym Wear 
When buying gym wear for summer, you need to remember a few tips. One of the essential tips is to opt for gym wear that is soft in color. Light colors absorb less heat, so they are best to wear in summers. 
No matter if it's gym leggings for women, women's sports bras, gym shorts, or any other gym wear, choose the fabric that is light in weight so that you might not feel dripping in sweat when working out in the hot weather. 
Not just light in weight, but the fabric of your gym wear must be moisture-wicking. All these fabric features will make your gym apparel stand high in summer. 
Where to Buy the Best Gym Wear For Summer?
Girls, there's no need to worry about buying the best gym wear. And when it comes to buying the best gym wear for summer, Blexry is the number-one place to keep in consideration. All you need to do is visit Blexry.co.uk and search for the best gym leggings, sports bras, yoga leggings, and other products that you want to use in the gym for summer. 
Blexry is the only brand that will surely satisfy you regarding the best gym wear. 
Final Verdict
We hope you've now got all about what to wear to the gym in summer. You're not forced to use any specific product. But you are open to pairing your favorite upper and lower body apparel.
No matter if it's a sports bra with high-waisted leggings, a sports bra with shorts, a funky tee with knee-length leggings, or anything else, all of these will go ideal for summers. But don't forget to check the fabric quality before putting your favorite products in the cart.