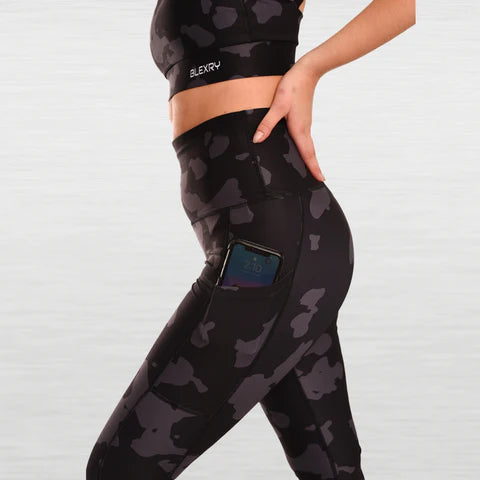 Hey, do you have difficulty keeping your phone and your keys while going to the gym or working out? We guess you haven't heard about the gym leggings with pockets. Right? Yes, they exist!
Not just you, but the majority of the gymers aren't aware of this amazing addition to the collection of funky gym leggings. Take a deep breath because you can now keep your keys and mobile phone with you while going to the gym. 
Before putting these gym leggings in your cart, let's have a glance at the perks of these leggings. So let's get started. 
Gym Leggings With Pockets
It won't go wrong if we say that a pocket is a small-sized bag with a rectangular shape stitched on the activewear. You might have a question popping into your mind that pockets on your leggings can affect your sit-ups and other exercises. 
No! 
These aren't like the ordinary pockets made on the backside. But they are present on the mid-thigh and to the side of your leg. Thus, the pockets won't stop you from moving freely. Plus, they are so flat you can't even imagine that there is any pocket on your leggings. Not just helpful in keeping your essentials in them, but they also give your leggings a flattering design. 
Confused about the size? Relax; these pockets are large enough to hold your phone, wallet, keys, and some other essentials. 
Some Perks of Wearing Gym Leggings With Pockets
Matchless Option For All Music Lovers
Are you a music lover who can't even work out without listening to your favorite beats and songs? That's so sad that you've been working out, sacrificing for this habit as you don't have any pockets in your gym wear. 
But you can now enjoy your exercises in the way you want. All you need to do is buy a pair of gym leggings with pockets. Use a wireless earphone, connect it with your smartphone, and place your phone in your pocket. Ta-dah! It's all set to enjoy your workout. 
Not just during a workout, you can listen to music anytime and anywhere or even during running and jogging. 
Gym Leggings With Pockets- The Best Replacement For Your Bag 
Whether it's a market or a gym, every woman needs to bring a bag to keep all the essentials. But no need to carry even a small bag with you while going to the gym. But how? 
The best thing to replace your bag is a pair of leggings with pockets. Whether it's a wallet, cash, mobile phone, car keys, or anything else, all are good to go into your pockets. Plus, you're free from the trouble of taking care of your bag. 
Zippered Pockets Allows You to Freely Jump and Run
There isn't just a huge variety in the gym leggings types, styles, and designs. But you'll also find variation in the kind of pockets they have. Some gym leggings come with zippered pockets, and they are considered to be the safest and the best ones. You won't feel any risk of losing your things during running or jumping as they are zip-locked from the upper side. 
Are Gym Leggings With Pockets Any Good?
When it comes to gym wear, especially gym leggings, pockets are of great importance. Without any doubt, moisture-wicking properties, lightweight fabric and quick-drying features matter a lot, but sometimes you can't ignore the pockets in your gym leggings. 
These leggings are surely a very good thing to consider for your gym wear. So you all must go with these if you want to stay bag-free while going to the gym. 
When you have many options in choosing the gym leggings, go with the pair with pockets on their sides. 
Where to Get the Best Women Gym Leggings With Pockets? 
There's no doubt that most of the brands focus on manufacturing leggings without pockets. So it might not be easy to buy the leggings that aren't just of high quality but also with the attached pockets. 
But we don't want our readers to roam in the markets or scroll hundreds of sites. So we suggest going to Blexry. It offers a huge variety of gym leggings made with pockets. We are damn sure that you'll surely like the collection and the quality of the products. 
Final Thoughts
After reading this article, you'll surely prefer gym leggings with pockets as they offer many benefits. Most importantly, you can leave your home without a bag on your shoulder and can also listen to your favorite music while squatting, sit-ups, and other exercises. 
It's time to add a pair or two of these leggings to your gym wardrobe now. So let's visit Blexry, and you'll surely have an amazing shopping experience there. 
Good luck, you all gym lovers!