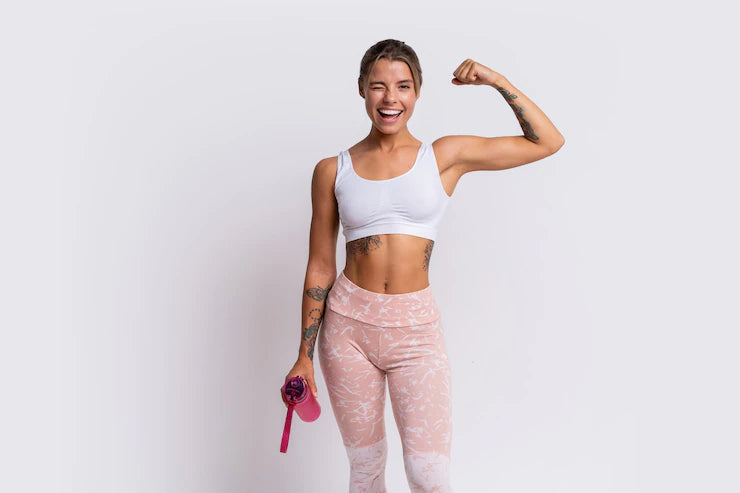 Best fit for your gym leggings
There's nothing more irritating than having gym leggings that become loose from the thighs and knees and give off a baggy and saggy look. What? Are you also facing the same issue? The main reason behind this is that most of the peeps don't even know "how should gym leggings fit?" 
If you also have such a pair of leggings, don't take a minute to throw them out of your gym wardrobe. They are nothing more than a masterpiece of annoyance. 
It doesn't mean that your leggings should be too tight. No! There should be a balanced fitting.
An All-Inclusive Guide on How Should Gym Leggings Fit
When choosing the right size of gym leggings for women, you should know the following points. 
Follow the Statement "Leggings Should Feel Like Your Second Skin"
The second skin example is perfect for considering when getting the right fit of the gym leggings. Your second skin (leggings) should neither be too fit nor be too loose. If it's too tight, it will start to stretch your waist and the other skin. And if it's too loose, you will stay busy pulling them up. So don't forget that whenever trying new leggings, they should feel like your second skin. 
Always Hunt for 4-Way Stretch Fabric in Leggings.
Most of us look for fabric that is stretchable in just two ways. That's because most buyers are unaware of the 4-way stretchability of the leggings fabric. Yes, such material does exist. 
The secret behind selecting the 4-way fabric is that it can be stretched both lengthwise and widthwise. Such leggings can give you a fantastic stretch without being so tight to your skin. 
Avoid Leggings That Give You a Muffin Top Look
Whenever you try leggings, always notice your belly must not be wrinkled due to the tightness of the leggings. If it's doing so, you need to have a size greater than those leggings. Otherwise, your skin is going to suffer badly. 
Go For a Squat Test
Just trying the leggings isn't enough at all to get the perfect fit. You have to also go for a squat test. If your leggings are squat-free and don't expose your innerwear, it's the best one.
When squatting, if your skin or your underwear is visible, it means your leggings are badly stretching, and you're wearing a small size. 
Opt For High Waist in Your Leggings
The next important point to remember is to opt for the best waist that neither rolls down nor hugs your waistline so tightly. If you are a regular gymer, you'll know that gym leggings come in different rises. These include low, medium, and high rise. But the best among all these is the high rise or the high-waisted leggings. 
These leggings conceal your abdominal area and give you extra coverage with a perfect fit to your waist. 
Say No To See-Through Leggings
Yes, you're right that no one will be stubborn enough to buy see-through leggings. But we aren't talking in this way. 
Most of you buy too tight leggings, so the fabric becomes see-through when you bend.
On bending wearing new leggings, if your skin is visible, you're wearing the wrong size. It's smaller than the required one. So better to go with one size bigger than that. By applying the bending technique, you can easily find the right fit for your leggings. 
Your Leggings Must Not Be Baggy at Your Knees
A fitted legging doesn't just mean that you shouldn't go with the leggings that are smaller in size. You should also avoid leggings that give you a baggy look from the knees and a waist that keeps slipping down. 
If you find your leggings with these problems, you need to go with one size smaller than that one. There should be equal fitting from top to bottom of the leggings. 
Head Towards Blexry To Get the Perfect Fitted Gym Leggings
Getting the perfect fit in the gym leggings isn't a piece of cake for all the buyers. If you want top-quality and best-fitting, you need to visit Blexry. 
You'll forget all the other top-class brands once you buy your leggings from this brand. For sure, this brand is the master of all the gym wear selling brands.
Final Words about How Should Gym Leggings Fit
Did you get all about "how should gym leggings fit?" We hope you won't now make any mistake in getting the right fit for you. A pair of perfectly fitted leggings won't just give you comfort but will also give you the confidence to work out properly.  
Just consider all the above-discussed points before putting any gym leggings for women in your cart. And don't forget to let us know about your shopping experience for the best-fitted leggings. We'll be waiting for your response. 
We wish you good luck picking the best fit for your gym leggings!