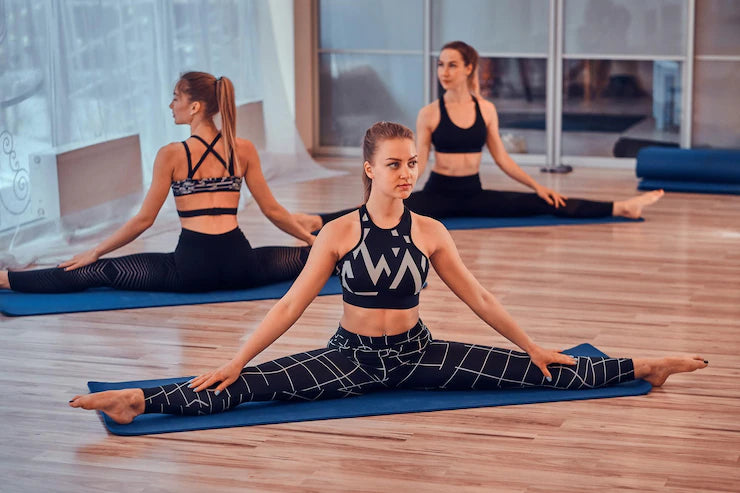 Are you wondering, "What are the benefits of wearing leggings?" If you're a beginner gymer, you might be confused about which lower body apparel to opt for. It's pretty obvious that not every type of clothing is best to wear during a workout. 
You can't squat with loose trousers, and shorts aren't an excellent pick to do burpees. Most of you want to put your hands on the gear that works as an all-rounder. Yes, gym leggings are a perfect option to use for all of your gym workouts. 
But what makes leggings stand high among other available options? If you want to know an all-inclusive note on the benefits of wearing leggings, you're at the right place. 
So without wasting even a second, let us spill the beans about this topic. We're sure this article will answer all of your queries. 
What are the Benefits of Wearing Leggings?
Regarding the benefits of wearing leggings, we've got a lot to discuss with you. No matter what type of leggings you opt for, compression, running, or high-waisted one, all of them can give you incredible benefits to your body during and even after a workout. 
Let's have a deep look at the benefits of wearing leggings. 
Improvement in Muscle Support
You'll Be Free From Post-Workout Stress
Wearing leggings Gives Matchless Coverage
You Get the Best Running Experience
You Get Matchless Jumping Ability
Leggings are Best of Best in Giving You Comfort
Let You Show off Your Physique and Increases your Motivation
Improved Muscle Support- The Greatest Benefit of Wearing Leggings 
One of the most significant benefits that leggings provide you is muscle support. This muscle support is just because of the accurate fitting of the leggings. The tight and the right fitting compresses your leg muscles which becomes the reason for support. They also stabilize your muscles by absorbing the strain. 
Wear Leggings, And You'll Get No Post-Workout Stress!
Are you fed up with the post-workout stress? The reason can be your wrong choice of athletic gear. If you want to eliminate the soreness and stiffness of muscles, you need to work out wearing compression leggings.
These leggings work by bringing ease to the symptoms of DOMS (delayed onset muscle soreness). These aren't just the benefits of compression leggings; other gym leggings can also work well in this regard. 
They Offer You Matchless Coverage
Most peeps can't compromise on body coverage, especially when doing squats, burpees, pull-ups, or kettlebell drips. If your leggings keep on rolling down, you'll stay busy pulling them up and won't be able to concentrate on your workout fully.
They hold your waist so perfectly and don't swipe down when you're working out. Plus, they give you extra coverage above your waistline that the other leggings can't provide. To get all these benefits of high-waisted leggings, you need to shift to high-waisted gym leggings. 
Leggings Can Give You the Best Running Experience
Dear girls, not every clothing is best to use for running. It won't go wrong if we say that compression leggings are the best running leggings as they offer you countless benefits. 
Wearing these leggings during running increases the flow of oxygenated blood to your body. Not just this, but they also prevent your muscles from swelling. Thus you can get a smooth running experience.
Apart from these benefits of running leggings, you must know that they also have moisture-wicking properties. These properties help quick drying, and you won't feel drained in sweat during running. So doubtlessly, leggings are the runners' bosom friend.  
Leggings Offer You Good Jumping Ability
If your workouts are incomplete without jumping, you need to put your hands on leggings. The stretchy fabric of leggings feels so light on your skin, thus giving you some extra energy to jump at specific heights. 
Leggings- The Second Name of Comfort
Keeping all the other benefits of wearing leggings aside, they can also make you feel comfortable that any other gear can't. Leggings are mostly made with breathable fabric that feels light to your skin.
Not just this, but the sweat-wicking factor also contributes a lot to making it comfy. When your body sweats, the sweat particles move out and come to the fabric's surface. And from there, water or sweat particles go into the atmosphere, leaving a cooling effect on the body. 
Moreover, leggings perfectly hold your body, don't slip down, and prevent chafing. Wearing leggings allow you to make different poses during yoga and different leg moves during working out in the gym. 
Wearing Leggings Let You Show off Your Physique For Which You Worked Hard
You might think that the benefits of wearing leggings are just restricted to comfort, support, and jumping ability. No, my girls! They also offer you to show off your physique for which you worked hard every morning. 
Leggings become your second skin and get the shape of your body. And when your body shape is apparent, you become more motivated to work even harder. Indirectly, leggings also work to increase your motivation level. 
Where To Hunt For Best Leggings? For Sure, Blexry!
Buying the best leggings isn't a piece of cake. You have to take a few things into consideration before putting your hands on any pair of leggings. When there are many options available, Blexry is the only one to trust. It's considered a master in making top-class gym wear and especially gym leggings. 
They offer a wide variety of leggings, including high-waisted leggings, compression leggings, patterned gym leggings, and eye-catching funky gym leggings.  
Have a glance at the available options at Blexry. You'll indeed have the best experience.
Final Thoughts About "What Are the Benefits of Wearing Leggings"
After reading the whole article, can you let us know "What are the benefits of wearing leggings?" We're sure you've not got all the necessary information regarding this topic.
From improved muscle support to endless comfort, wearing leggings have countless benefits. Let's get all these benefits by wearing your desired pair of leggings today.