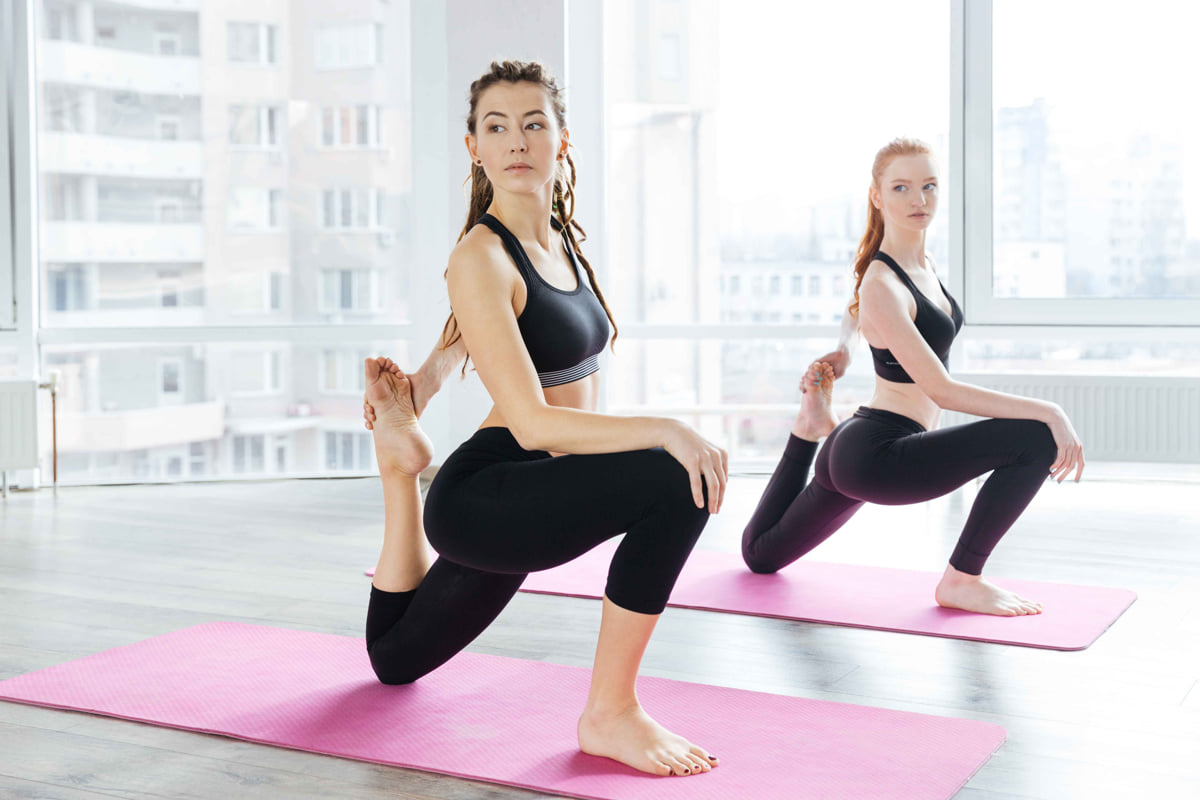 What Clothes Should I Wear For Yoga?
Have you got all your yoga accessories but can't decide "what clothes should I wear for yoga?" Doubtlessly, you can't calm your mind and strengthen your body if you aren't wearing proper yoga attire. 
Picking the perfect yoga attire isn't a piece of cake, but it's also not a tough row to hoe. All you need to have is a detailed guide that will help you a lot in deciding. what to wear for yoga? 
Let's explore more about this topic by diving straight into the main body of this content. By the end of this content, you'll get all the information about yoga clothing.
What Clothes Should I Wear For Yoga? 
Sports Bra

Yoga Leggings

Yoga Tops

Yoga Sweaters
Sports Bra- An Important Part of Yoga Clothing
A sports bra is a good option to wear during yoga class, but only when your bra is supportive. Wear a sports bra that keeps your breasts in place, so you don't need to adjust the bra during yoga.
The more the bra support, the more confidently and comfortably you can get the high-intensity yoga classes. And if you're a yogi who takes low-intensity classes like restorative yoga, a less supportive bra will also be a good pick. Not just the support, but it should also give you maximum coverage. 
Yoga Leggings- A Must Have for Yoga Sessions
Yoga sessions are incomplete without yoga leggings. The main reason why yoga leggings are preferred are they are flexible, breathable, and allow you to make different moves. So they don't restrict your body to a certain posture. 
For yin, you can also consider loose-fitted pants as you won't need much mobility in such a case.
Pro Tip
Don't forget to take an opaque test of your yoga leggings. Opaque tests help you recognize if the leggings you're going to buy are perfect for yoga or not. For this, we recommend you strike a downward dog pose. If it's see-through, kick it out from your cart. 
Yoga Tops- Best For Coverage
If you're reluctant to wear a sports bra during yoga due to coverage issues, you can go with yoga tops. Yoga tops can be any top hanging in your wardrobe. If not that, how about using a fitted T-shirt or a fitted tank top? Yes, they are amazing options too. But make sure the top you decide to wear must not be loose but fitting so that it hugs your body. It should not ride up when you stretch your body. 
Yoga Sweaters- A Good Pick For Winters
No! We aren't saying to wear yoga sweaters and jackets during your class. But when you're done with yoga, you can't go out into the open area in winter without covering your body. For this, we suggest you wear yoga sweaters as they prevent your body temperature from rising immediately due to the cold outside. 
A yoga sweater isn't a specific sweater. But any cozy and warm sweater or jacket will work well in this regard. 
Buying Guide About "What Clothes Should I Wear For Yoga?"
When done with knowing what clothes should I wear for yoga, the next thing you should know is the features present in your yoga clothes. Before putting any sports bra, yoga leggings, and other yoga clothing in your cart, let's glance at the buying guide. 
Your yoga clothing must have the following features. 
Fabric Must be Breathable
Breathability is the top demand in yoga clothing. If your clothes aren't breathable, you'll feel trapped in a hot casing throughout your yoga class. And this will result in a lot of sweating.
To stay safe from such a situation, look for the fabric in yoga clothing that is breathable. Not just breathable but also moisture-wicking. Spandex, polyester, polypropylene, and nylon are excellent options. These fabrics are breathable, allowing the sweat particles to move out on the surface. And from the surface, they escape into the environment. Resultantly, you feel a sensation of cooling. 
High Flexibility to Get Different Moves
Yoga is all about different moves like rolling, bending, and stretching. You'll be able to do all this if you wear stretchy and flexible clothing. Pick the fabric that is flexible enough to allow you to make yoga movements easily. 
Provide High-Class Support
You aren't going to have yoga benefits unless your clothing isn't supportive enough. For this, get yoga leggings that have a wide waistband. Plus, your leggings must not roll down. 
Get Your Favorite Yoga Clothing Today!
We offer you yoga clothes that are matchless in quality. Whether it's yoga leggings, sports bras, or other clothes, each product has unbeatable quality fabric and features. So get your desired yoga clothing today. 
If you have questions about yoga clothing, you're welcome to use the comment section. We'll surely respond to you and will answer your queries. 
If you're confident about "what clothes should I wear for yoga?" It's time to bring them out of your wardrobe and prep for your yoga class.