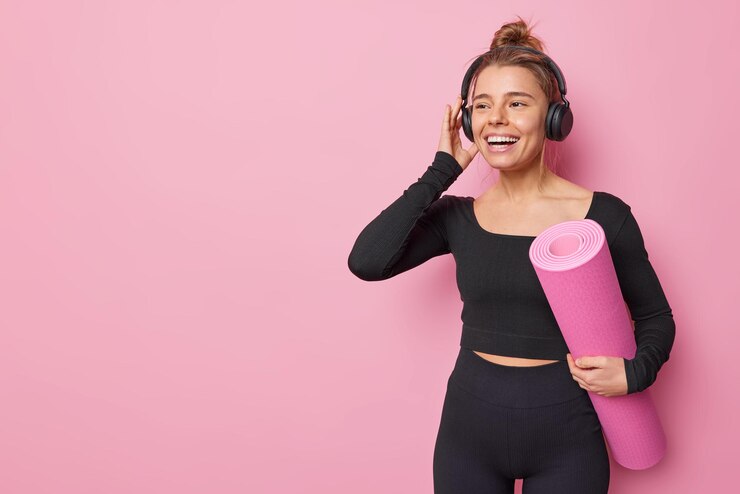 Let us guess; you've decided to join a gym again as the increase in weight is becoming stressing and disturbing for you. But you're confused about which lower body gym wear to opt for? 
Most beginners and intermediate gymers don't know which gym leggings are most flattering? But take a deep breath as you're no more in the stressful and confusing situation. Didn't you get what we're talking about? 
We, the gym freaks, have designed this content to help you get detailed and comprehensive information on this topic. 
Let us spill the beans on which gym leggings you should go for and why. We are sure at the end of the content; you'll be able to make the right purchase for you.
So let's get started, you all gym lovers. 
Which Gym Leggings For Women Are Flattering? 
Being a woman, you'll surely be aware of the countless types of gym leggings. Indeed each of them has different features and different benefits. But none of them can beat the high-waisted funky women gym leggings. 
What Makes the High Waisted Gym Leggings the Pre-eminent Option? 
Comfort, affordability, versatility, and durability are the typical offerings of all the leggings. But what makes the high-waisted gym leggings stand best among all the other options of the gym leggings? 
Do you want to know all those points? Why not!
High Waisted Leggings Don't Need to Be Regularly Pulled Up.
Phew! One of the main problems with most leggings is that they need to be pulled up from the waist. Did you also have a pair of the same leggings? It's time to get rid of that pair and bring a pair of high-waisted leggings. 
No matter which type of exercise you are doing, whether it's sit-ups, deep squats, or pushups, high-waisted leggings will give you a firm grip on your waist, and they won't pull down. 
High-Waisted Gym Leggings Reshape Your Figure
Hey, do you want to look slim? Undoubtedly, that's your ultimate goal. And achieving this goal has now become possible with these leggings. The high-waisted leggings tuck in your lower body fat and conceal the original shape giving a slimming effect to your body. 
They Flaunt a Chic Look
If you are a fashion enthusiast who wants to look modish even in the gym, these leggings are for you. The high waist style looks cool when paired with a crop top or a sports bra. These apparels reach above your belly button, and the shape of your waistline becomes visible, which makes you look eye-catching. 
Oh nooo! Please bring this thought out of your mind that these leggings are just to be worn in the gym. Naah! You can also wear it out of the gym when hanging out with buddies for a night out with family. Pair them with a chambray shirt, zip-up hoodies, cropped tank top, or even a mock neck crop top. You are open to trying any upper body apparel with them, as all the high-waisted leggings have the power to enhance your appearance. 
Pundit in Giving You Support
Yes, you read it right. The high-waisted gym leggings are master in giving you support. They hug your waistline so perfectly that you perform your exercise or workout comfortably. 
They don't skip even a single inch from your waistline, giving you support that any other gym leggings might not offer. 
Want Some Extra Coverage? High-Waisted Leggings are the Solution
Not all the ladies want to expose the belly during the workout. If you also fall in the same category, you need to opt for the high-waisted leggings. As the name shows that these leggings give you coverage above your waist, so your body won't look uncovered. And you can confidently continue deep squatting and bending exercises. 
Not just this, but these leggings won't demand to be paired up with long shirts or tops. As they cover you above your waist, they will quickly meet with the ending of crop tops and sports bras. 
Where to Look for High-Waisted Leggings For Gym?
Gym wear or fitness wear has no best match other than Blexry. Head towards this brand to get the best of the best high-waisted leggings for women. Once you try out Blexry, you aren't going to visit any other brand for your gym wear. And we bet on it.
Takeaway
So after going through a detailed article on "which gym leggings are most flattering?", have you decided to bring these leggings into your gym wardrobe? 
Without a shadow of a doubt, these leggings are matchless in various aspects. They offer you extra coverage, excellent support, a modern look, and a slimming effect, for which most gymers try hard. 
If you still have any questions popping up in your mind, you're welcome to come to the comment section. We'll be glad to answer your queries. 
We wish you good luck in having the most flattering gym leggings!